PlaceVR Technology Takes Prime Industrial Real Estate from Invisible to Visible for Co-Mo Connect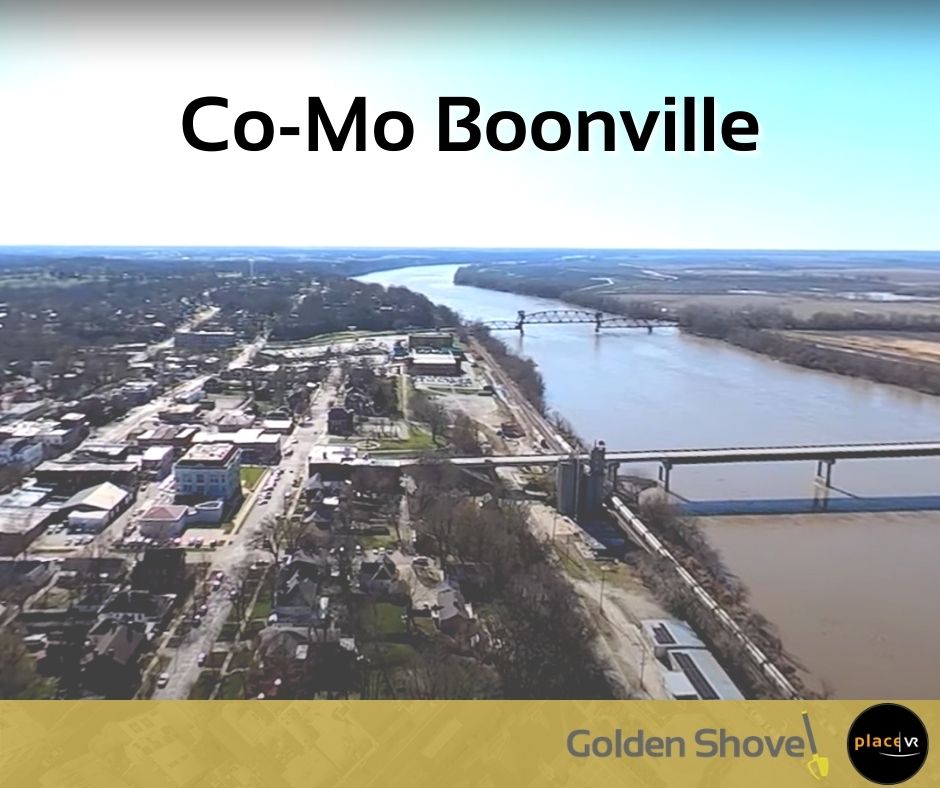 22 Apr 2021
Video, News, Recent Work, Press Release, VR
Golden Shovel Agency VR Tech Stack and Digital Marketing Promote Mid-Missouri Opportunities for Business Relocation and Expansion
Co-Mo Connect has launched a 360-degree video to promote available land along I-70 that would be perfect for a manufacturing, logistics, or distribution company. When combined with sophisticated digital marketing tactics and a Virtual Meetings App, Co-Mo Connect's economic development goals are enabled with the technology tools they need to get potential buyers' attention and engage with them as if they were in person.
"We look at our 360-degree videos as tools that we can use to not just promote, but support exploration and discussion phases of the development process," said Corey ten Bensel, Director of Member Services for Co-Mo Connect. "When you watch this video, you get a real sense of the location, but then this 3D building emerges, and you get an idea for how the space can be used. It's a powerful way to guide people into action by giving them a vision for what's possible."
Co-Mo Connect has partnered with Golden Shovel Agency to create a series of four 360-degree videos with 3D building renderings, along with the creation and implementation of a digital marketing strategy to generate leads.
"Golden Shovel brings expertise and skill to the table that we don't have in-house," said ten Bensel. "The team has been absolutely wonderful to work with. I couldn't be more pleased."
Co-Mo Connect is ramping up its economic development activities at a time when businesses are questioning the advantages of metropolitan locations. The nine-county area that Co-Mo Connect serves with internet, phone and electricity services has what businesses are looking for in terms of affordability, quality of life, and a business-friendly environment.
"COVID-19 and the events of this past year have changed the economic development landscape and Co-Mo Connect recognizes this as a time of opportunity," said Aaron Brossoit, CEO of Golden Shovel Agency. "Their eagerness to use Golden Shovel's tech stack to communicate what they have to offer is going to be a great competitive advantage for them."
Co-Mo Connect is active in economic development and is focused on goals that will bring more jobs and residents to the 9-county area that they serve with Fiber-to-the-Home Internet, IPTV, phone, and electrical service. The decision to use immersive technologies to attract attention to their communities in Missouri is one that allows them to stand out while providing them with the ability to be flexible.
CO-MO CONNECT exists to improve the quality of life for the region it serves with fair and reasonable prices for electric, internet, TV, and phone services. It also works to support its communities through economic, civic, and educational opportunities.
GOLDEN SHOVEL AGENCY'S PLACEVR is a Minnesota-based full-service economic development firm specializing in workforce attraction for economic and community development. PlaceVR is a revolutionary new approach to economic development that harnesses emerging 360-degree video and virtual reality technologies to create immersive experiences that drive business and workforce recruitment. Our productions combine a depth of experience in both virtual reality production, marketing, and communications to bring to life an entirely new strategy for attracting businesses, talent, and visitors.