One East Kentucky Reaches Out to the World with PlaceVR Technology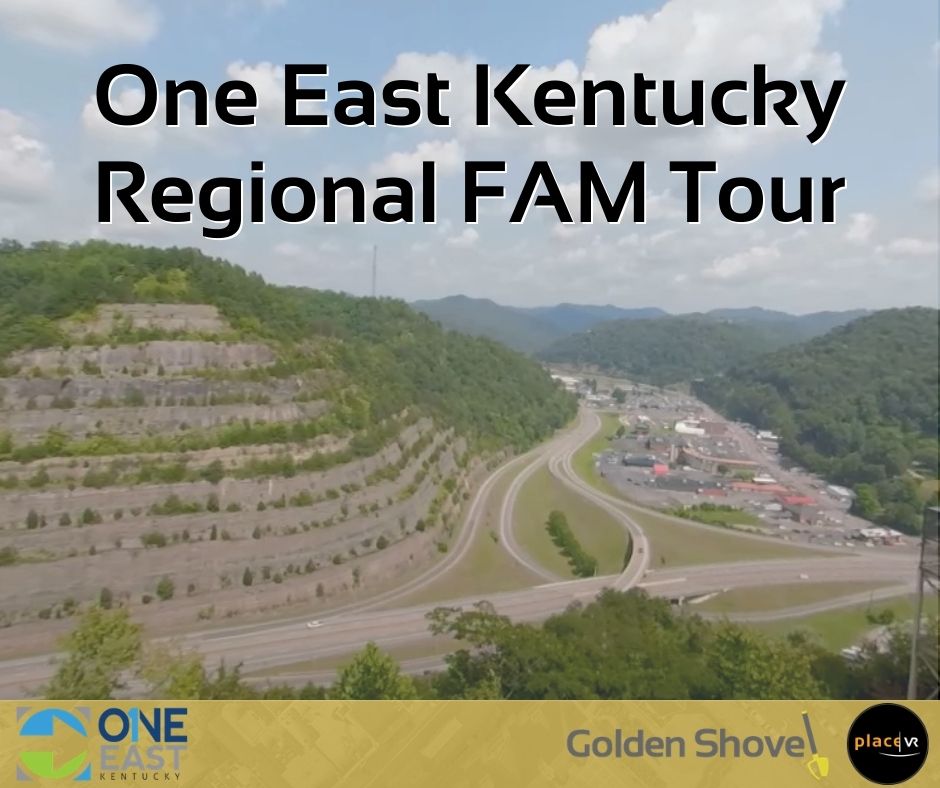 12 Apr 2021
Video, News, Recent Work, Press Release, VR
360-Degree FAM Tour and Virtual Meetings App to Attract and Engage Investors
PAINTSVILLE, KY -- One East Kentucky has found a way to keep moving forward with economic development progress despite the COVID-19 pandemic with PlaceVR technology. The organization just released a 360-degree video that enables them to take viewers on a tour of their region from anywhere in the world.
The organization plans to promote the video online and send virtual reality (VR) headsets to site selectors and investors. When they watch the video with VR headsets, viewers can look all around and up and down, as if they were in the middle of the scene. Their brain has a response that mimics what would happen if they were really in that place. The result is that their message about opportunities in Eastern Kentucky will be understood, remembered, and ready for a next step like scheduling a meeting.
"I can't believe how much this technology has advanced in five years," said Chuck Sexton, President and CEO of One East Kentucky. "To be launching our video and also have the opportunity to be one of the first organizations to use Golden Shovel's virtual meetings app is about as innovative as you can get."
The virtual meetings app will allow Sexton and his colleagues to meet and engage with prospects wherever they are in the world. Once participants put on the VR headsets, they'll find themselves in One East Kentucky's virtual conference room. They can talk as the video rolls, muting the narration, and pausing the video, making the experience not only immersive but interactive.
"We developed the Meetings App to make it possible for our clients to take the next step with their prospects," said Aaron Brossoit, CEO of Golden Shovel Agency. "PlaceVR technology not only helps clients with attraction, it helps them to develop the relationships that are needed to close deals."
One East Kentucky is collaborating with Golden Shovel Agency to create a series of six videos and 3D building renderings that will market available land at industrial park sites and existing buildings that are for sale.
ONE EAST KENTUCKY was established in 2015 as east Kentucky's Center of Economic Development Excellence and is a 501(c)3 regional economic development organization responsible for spearheading the growth and diversification of eastern Kentucky's economic base through recruiting new industry, jobs, and investment to the heart of Appalachia. Since 2016, One East Kentucky has announced over 1,000 new jobs and $154.6 million in capital investment. For more information about One East Kentucky, the nine-county region, industrial properties, workforce development incentives, or other economic development resources, click here.
GOLDEN SHOVEL AGENCY'S PLACEVR is a full-service economic development firm specializing in workforce attraction for economic and community development. PlaceVR is a revolutionary new approach to economic development that harnesses emerging 360-degree video and virtual reality technologies to create immersive experiences that drive business and workforce recruitment. Our productions combine a depth of experience in both virtual reality production, marketing, and communications to bring to life an entirely new strategy for attracting businesses, talent, and visitors. Learn more here.